After the 1929 Wall Street Crash, investors fled from equities, apart from a handful of well-established "blue chips": market leaders such as Imperial Chemical Industries in the UK, Deutsche Bank in Europe, or General Electric Corporation in the USA.
Accordingly, up to the outbreak of World War II in 1939, most private investors allocated the great majority of their portfolios to bonds, especially government issues. With benefits such as capital preservation, income generation, the ability to counterbalance equity in a portfolio, and the potential to provide a hedge against inflation risk, fixed-income assets enabled investors to take advantage of this market cycle happening at the time, and into the future.
Bonds are a core part of many investment portfolios to this day. However, there are a number of common myths about bonds, and the risk is that taking those falsehoods as truth could lead to poor investment decisions.
We're here to debunk and dispel some of the most common myths about bonds. Read on to find out what these widely believed myths are and what the truth of the matter really is.
Myth 1: Bonds are boring
In the mid-1960s, the pendulum swung back and the so-called "cult of the equity" emerged, led by some of the biggest US and UK pension funds at the time. These fund managers come to realize that equities offered the most direct and rewarding type of investment to participate in the burgeoning post-war economic growth. As history's longest and strongest economic boom took hold across the globe from that period onwards, those "cultists" were proved correct.

Long-term growth of USD 1: Stocks vs. bonds vs inflation
Source: Darrow Wealth Management
In such circumstances, bonds were considered "boring" by many investors, suitable only for pensioners and others in need of income rather than capital growth. Rising inflation in the 1960s also caught the bond market by surprise, leading to major losses.
However, those who eschewed bonds ended up suffering as a result. As successive crises – the stock market crash of 1929, the "dot-com" bubble collapse of 2000, and the Global Financial Crisis of 2007 to 2008 – assailed the financial markets, interest rates collapsed and bonds boomed.

The popularity of stocks vs. bonds
Source: Longtermtrends
The chart above shows the ratio that divides the S&P 500 by the Total Return Bond Index. In a nutshell, when this ratio rises, stocks beat out bonds as the better investment, whereas when the ratio falls, bonds win out over stocks. As can be observed from this chart, at times when a financial crisis hit, investors tended to find a safe haven in bonds, which in turn increased the popularity of bonds for many years to come.
Clearly, bonds are not boring – quite the opposite.
Myth 2: Bonds offer less choice than equities
Another myth that bonds are plagued by is that bond markets do not offer the same breadth of choice as their equity counterparts. This is untrue, as we will rebut below.

Global fixed income and equity issuance
Source: sifma
The chart shows that in 2021, new issues in worldwide bond or fixed-income markets totaled USD 26.8 trillion, nearly 27 times that of equities. Additionally, bonds' total market value, or capitalization, was USD 126.9 trillion, while equities were worth USD 124.4 trillion as of 2021.
The high volume of new bond issues reflects the fact that they typically have a fixed lifespan. When bonds mature, governments (certainly) and companies (typically) will issue new bonds to cover their new financing needs.
As for choice, 68% of bond issuers are corporations spanning a broad range of sectors and industries. But unlike equities, the kinds of bonds that can be traded can also be issued by governments or by government-backed agencies and "supranational" borrowers, such as the World Bank and the European Investment Bank.
Myth 3: Bonds are completely safe
While it is true that investing in bonds is less risky compared to other asset classes, such as stocks or real estate, less risk does not equate to no risk whatsoever. There are inherent risks when it comes to investing in bonds, as with any asset class. For example, bond issuers may default on their obligations, which could leave investors unable to recover their principal.
The relative risk of a certain bond can generally be evaluated by reviewing its bond rating, which is expressed as a letter grade measured by the top three rating agencies.

Corporate bond credit ratings scales by Moody's, S&P, and Fitch
Source: Wolf Street
For Moody's, Standard & Poor's, and Fitch, a triple-A bond rating means the issuer is extremely likely to meet its commitments and not default. On the other hand, a bond with a C rating means the issuer is vulnerable to a potential default which makes that bond riskier to invest in.
Overall, the level of risk has been rising across bond markets as issuers have taken advantage of low interest rates to borrow for longer periods. A longer duration represents a greater risk for buyers, as the average time to redemption (the number of years before an investor can be repaid the bond value by the bond's total cash flow) has risen from under five years in 2015 to over six years as of September 2022. This exposes bond investors to a greater probability of interest rate changes over time.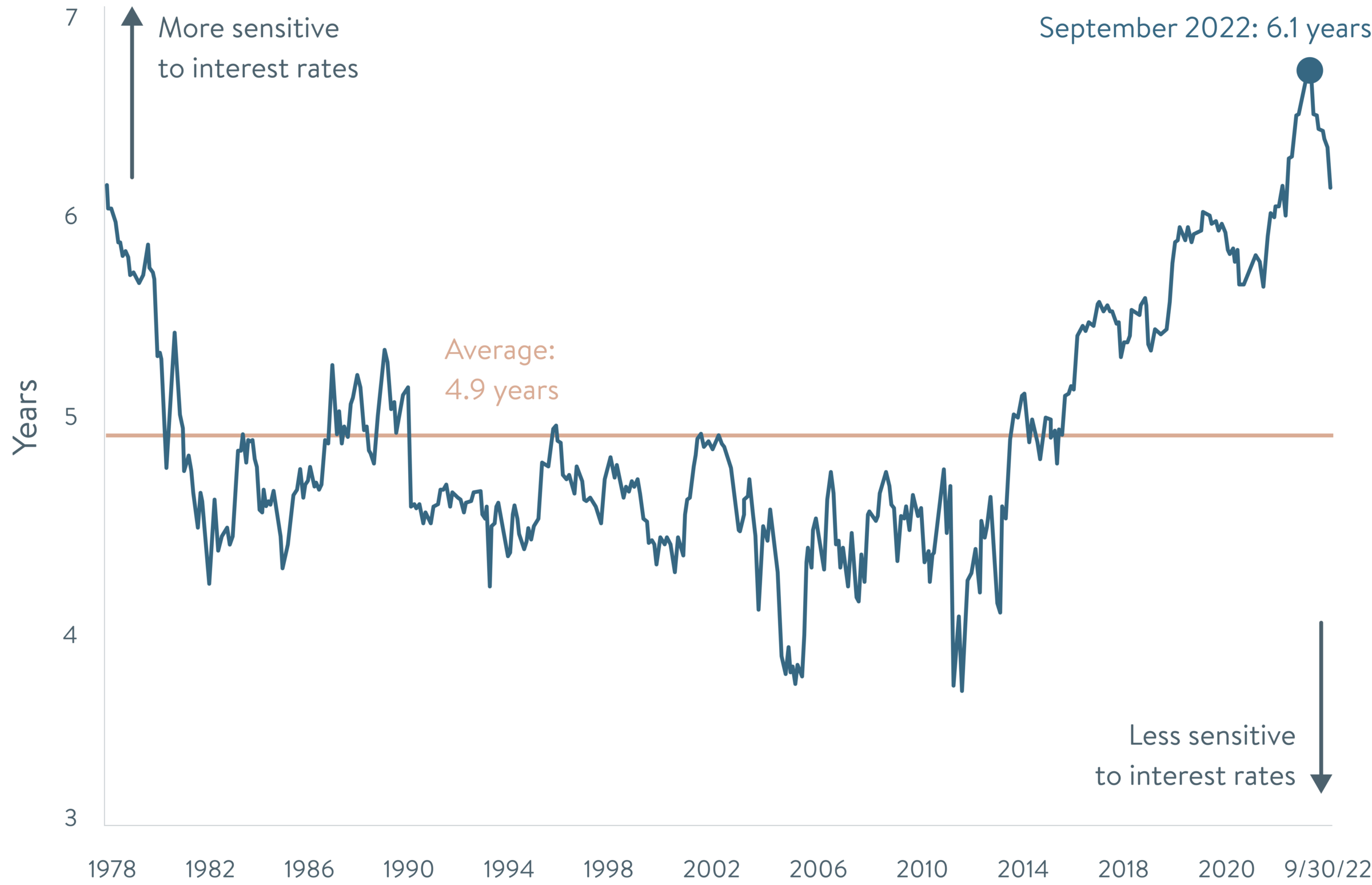 Duration of the Bloomberg US Aggregate Bond Index
Source: Hartford Funds
Inflationary risk should also be added to the increased duration of bond-holding periods. Even at the much higher levels that are seen to be prevailing today compared with just a year ago in 2021, bond yields still trail far behind resurgent prices. This is especially true of government bonds.